SUCCESS STARTS DAY ONE
There's no sitting on the sidelines here — ever. Our priority is setting up our new LOs for success from the jump. We focus on what matters to you and your business, which starts with a training and onboarding process that is second to none.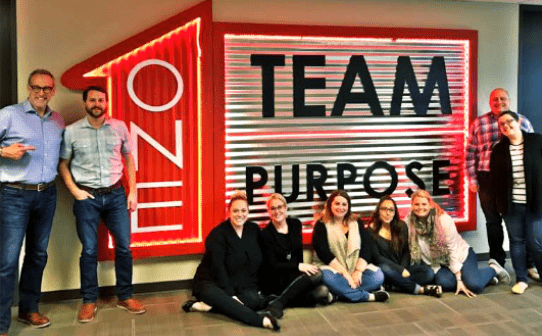 ---
MODERN MARKETING
In a world where digital reigns, your marketing is more important than ever. Our industry-best, in-house marketing team is always ready to help you get the clicks, the likes, the reviews, the shares and the business you deserve.
Strategic Planning
Our team will formulate a plan specific to your market and your targeted audience to get the results you desire, whether it's a one-time ad or a full-blown campaign.
Dedicated Specialist
Our knowledgeable marketing consultants work directly with you to connect your ideas with solutions that help you achieve your goals — every step of the way.
Content Creation
Our talented team of writers, designers, developers and project managers create marketing pieces that keep people reading, clicking and contacting you.
---
AMERICA'S RENOVATION LENDER
We're not your run-of-the-mill mortgage company, we're an industry innovator constantly working to create the products our loan officers and buyers crave. That's why we're known as America's Renovation Lender — we saw a need in the marketplace and delivered a suite of over 18 fixer-upper solutions to help homebuyers achieve their goals.
We don't just focus on renovations, though, we have more than 400 mortgage options to help you deliver the home loan solution for your borrower's situation. Always remember: if buyers need it, PrimeLending has it.
---
ULTIMATE MORTGAGE EXPERIENCE
APPLY ONLINE
Our digital mortgage process helps homebuyers apply in minutes, from anywhere.
UNDERWRITING
We typically underwrite loans in under 48 hours and fund loans in under 30 days.
PROCESS
Simple, streamlined, stress-free — it's not just a process, it's a success for all parties.
CLOSING
Our priority is getting you and your borrowers to the closing table on time1 and without issue.
---
POWER UP
When you're a PrimeLending Power Producer, you deserve some R&R to take your mind off of work — while putting your toes in the sand, relaxing at the spa or taking in beautiful scenery at stunning beaches across the country. That's what our Power Producers get to enjoy every year on their all-inclusive paid trip. Are you in next year?