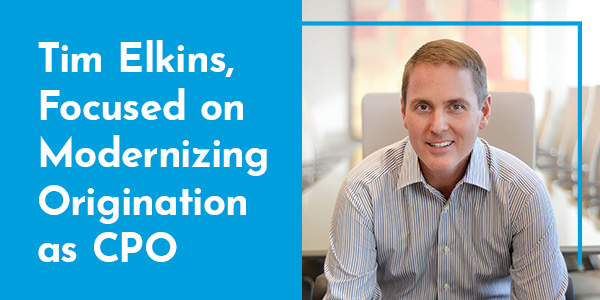 We're proud to announce the promotion of Tim Elkins to Chief Production Officer. Tim, who previously served as the company's Chief Information Officer, will now oversee the company's Retail Production, Marketing and Technology functions. This dynamic cross-functional team is designed to respond quickly and efficiently to changing consumer demands and industry requirements. This alignment creates stronger accountability of Technology to serving Production's needs, helping to drive revenue and maximize operational excellence.
Since joining PrimeLending more than 10 years ago, Tim has been leading the company's ongoing initiatives to leverage technology-based sales to streamline and improve the digital mortgage process. As a collaborative, solutions-oriented leader with a proven track record for getting things done, Tim has a unique industry perspective that includes mortgage expertise, strategic leadership experience, company knowledge, proven results and a vision for the future.
Driving Game-Changing Evolution
With a forward-thinking mindset, Tim has demonstrated the ability to assemble high-performing teams, identify high-impact opportunities and deliver dynamic solutions that propel us to the forefront of the industry. Most notably, Tim has led PrimeLending's initiative to replace our current LOS with a new cloud-based, future-proof system—Blue Sage—that delivers a best-in-class, streamlined, user-friendly digital mortgage.
Choosing Blue Sage was the culmination of a year-long initiative to evaluate and select the best technology solution for PrimeLending. The company approached the decision strategically under the direction of Tim starting by defining a list of "non-negotiable" requirements for the new system and leading a cross-functional team to evaluate a broad range of providers – from well-known industry leaders to newer, up-an-coming players. The company signed the agreement to move forward with Blue Sage in the fall of 2018. With an aggressive implementation timeline, the project is on schedule with the roll-out estimated to be complete in early 2020.
Beta testing and pilot roll-outs confirm Blue Sage is a game-changer, giving us the agility and control to not only respond rapidly to a changing environment, but to raise the bar by delivering a more efficient, effective, customer-friendly digital mortgage, as well as helping us lower our origination costs.
Leading Innovative, Transformative Initiatives
A talented problem-solver with a passion for modernizing the mortgage process for customers, business partners and mortgage professionals alike, Tim has made a huge impact on the PrimeLending's production and fulfillment processes. He's always willing to challenge the status quo, bring a fresh approach and champion change. Some of his most impactful innovations include:
Artificial Intelligence Automation – This year, the company implemented an AI process enhancement that automates many of the compliance processes related to the Home Mortgage Disclosure Act by using computer vision technology.
Apply Now – The company's mobile-friendly, web-based application platform that securely manages the borrower's digital mortgage experience from application to documentation to approval to closing. In 2019, Apply Now was recognized by MortgageSAT as the Best-In-Class application process.
Business Partner Mobile App – A REALTOR®/builder-facing mobile platform that provides real-time loan status updates and reminders that help business partners manage their clients' closings more efficiently.
On Demand Prequalification Letters – Prequalified borrowers can produce property-specific prequalification letters on the fly to streamline the home purchase process and improve buying power.
A Proven Team Builder, Talent Developer and Culture Champion
A respected leader with a track record of designing winning teams and recognizing young talent, Tim has created an environment in which employees and managers thrive. He is admired throughout the organization and has earned a reputation for being a great listener and supportive mentor. His leadership, influencing skills and executive presence instills confidence in his team to produce outstanding results beyond expectations. These are some of the qualities that earned him the promotion to Chief Production Officer, a non-traditional career path for most CIOs.
Recognized, Accomplished Professional
Tim is the former chair of the Residential Technology Forum (RESTECH) for the Mortgage Bankers Association. Additionally, working with fellow CIOs from other industry-leading brands as well as senior staff from CIO.com and the Harvard Business Review, Tim has been a member of the Enterprisers Editorial Board.
In 2019, he was recognized on Constellation's Business Transformation 150 (link opens in a new tab), an elite global list of the top executives leading business transformation efforts at their organizations. In 2013 and 2014, Tim was honored as one of the Computerworld Premier 100 IT Leaders and led his team to being selected as a CIO 100 recipient for their innovation in the mortgage industry.