Todd serves as chairman and CEO of PrimeLending and is responsible for setting the strategic vision, goals and direction of the company, as well as internal and external communications including to the board of directors.
How would you describe your leadership style, and why has it worked so well for you?
TS: Leadership is more of an art, a belief, a condition of the heart, than a set of things to do. It is less about your needs and more about the needs of the people and the organization you serve. It is focused on developing individuals, showing them how to improve their performance and helping to connect their goals to the goals of the organization. It is about the importance of teamwork and creating harmony in a group by connecting people to one another. Being a leader means, especially, having the opportunity to make a meaningful difference in the lives of those who permit leaders to lead.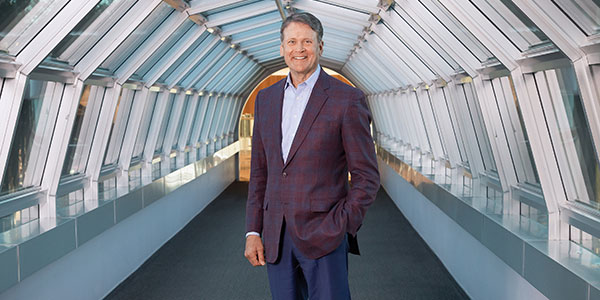 What do you see as your biggest challenge right now?
TS: Our biggest challenge is also our greatest opportunity. It is an amazing time to be alive and involved in business. We are dealing with tremendous change in the world of financial regulation, new demands from a new set of consumers who have their own ideas about financial services and how they should be delivered and supported. Remaining agile, hearing everyone's voice and keeping our strategy relevant and strong is our current challenge!
What are your goals for PrimeLending?
TS: PrimeLending will continue to grow market share nationally by building on our reputation of honesty, integrity and expert advice. Our customer satisfaction ratings will continue to grow as we provide superior service and results to each individual customer we serve. I want our company to be recognized nationally as the most admired mortgage banking company in America.
What was your first job in the industry?
TS: I answered an ad in the paper for a Management Trainee for Household Finance. The job paid $450 per month.
If you could go back in time, what advice would you give yourself at age 20?
TS: Believe in your own personal gifts and work to understand the value of those gifts. Don't attempt to be all things to all people – you will only end up disappointing everyone, including yourself. So, become self-expressive, listen to the inner voice, learn from the right mentors and give yourself over to a guiding vision.
Name your favorite or most recent books you've read.
TS: I recently read Shoe Dog by Phillip Knight, founder of Nike. It reinforces the belief that you can overcome anything – no obstacle is too great if you don't give up. It also contains some great business advice. My all-time favorite book is Integrity by Dr. Henry Cloud.
What is your favorite quote?
TS: "To get ahead, put others first. Your candle loses nothing when it lights another."
What has been the biggest contributor to your success at this point?
TS: Without question it was advice/guidance my mother gave me and repeated consistently over the years. Advice that said you can accomplish anything you want regardless of what anyone else says. She gave me an old quote that said, "Who are you – inside – that you think it's okay not to pick yourself up? Get up – get responsible." Don't EVER quit – once you are in the mode of quitting, you begin to feel like it's okay.
What personal or company values do you find more important and why?
TS: It is so critically important that we practice open, honest communication. Don't allow issues to fester; have the conversation, come to an agreement, and move forward.
What do you love most about PrimeLending's company culture?
TS: Culture deals with the way things get done. It's the character of the organization, the individuals involved and how they interact with one another that sets one company apart from another. A team with character always wins. I love that we can trust one another, that we work to remove barriers and that we deal with the issues. We are continually striving to improve.