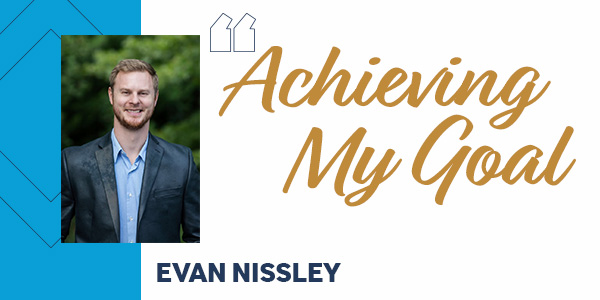 We recently asked Evan Nissley to share his insights on what sets him apart from competitors and how PrimeLending contributes to his success in our Q&A interview series with top PrimeLending loan officers.
What about the PrimeLending culture first attracted you?
I could tell early on that people were different... and in a good way. Everyone I encountered was very welcoming and I could quickly see the sincerely shared mentality of going above and beyond. I have been here for seven years and it's been great to see PrimeLending grow, evolve and gain market share, especially during the pandemic.
What's your biggest professional accomplishment at PrimeLending?
My biggest accomplishment is becoming a Branch Manager at the very beginning of January 2020. At the time of my promotion, I was a Production Manager and had been with PrimeLending for five years. Achieving my goal of becoming a Branch Manager would not have been possible without PrimeLending leadership, especially Karen Blakeslee and Brad Arendt, my close relationships with referral partners and, most importantly, the team I work with every day who are instrumental in my success. Without my team, it wouldn't be possible. PrimeLending was a fantastic resource as I transitioned to this new role and ensured I had everything I need to start on the best foot. As far as numbers, last year I was included in Mortgage Executive Magazine's Top 1 percent of originators in the country based on company-wide performance statistics for 2019.
What technologies empower you on the job?
PrimeLending is committed to leveraging technology that supports and strengthens its team. For example, Blue Sage and Total Expert enable you to be more productive while meeting evolving customer demands. These tools allow LOs to work faster and stay focused on producing.
In what ways does PrimeLending support a strong work-life balance?
PrimeLending focuses on providing resources and tools that make life easier and more efficient at every level, especially operational. Because we can work more proficiently, there is more free time outside of work.
Can you share a habit or routine you rely on daily or weekly?
I am a huge routine guy thanks to my years as a collegiate baseball player. Mornings are my time to get in the zone and get locked into work with my three monitors.
Where do you envision yourself in five years?
In five years, I hope to continue growing the team, become more visible within our community and maintain our positive reputation with clients and prospects.
Are you getting the resources and support you need to reach your career goals? If not, maybe now is the time to visit www.joinprimelending.com to explore your options.