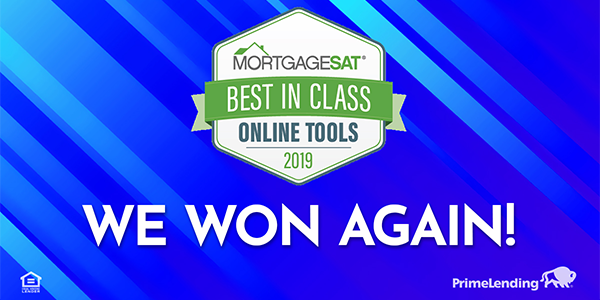 For the second year in a row, PrimeLending has earned an elite MortgageSAT Best-in-Class Lender Award. This year, we won in the category of Online Tools, an award that recognizes PrimeLending for achieving top ratings in the area of ease of use, visual appeal and effective communication.
What makes the online experience at PrimeLending unique? Our acclaimed digital mortgage offers a streamlined online process that guides potential homebuyers each step of the way by seamlessly combining personal service, with digital speed, security and innovative convenience. Borrowers can apply, prequalify, securely connect accounts, upload documents, pay fees, and track their loan process from a smartphone, tablet or computer with PrimeLending. Our goal is to provide the ultimate mortgage experience to customers and business partners alike. With a consistent 96% satisfaction rating* and more than 14,000 Zillow 5-star reviews, it's easy to see PrimeLending is delivering on that promise.
"We're relentless in our pursuit of a positive, streamlined mortgage experience for borrowers, so we're honored to receive this award from MortgageSAT on behalf of homebuyers," said Tim Elkins, Chief Production Officer. "We're dedicated to finding the perfect combination of powerful technology and exceptional service to deliver a lasting positive impact on homeowners."
Across the board, MortgageSAT Best-In-Class awards are presented only to mortgage companies in the country who "provide exemplary service to their borrowers throughout the year, resulting in a satisfaction score in the top ten percent of a given category." STRATMOR Group's MortgageSAT® service is recognized as the industry benchmark for mortgage borrower satisfaction and offers lenders a powerful management tool that gives lenders the control, visibility and context they need to manage and improve the borrower experience.