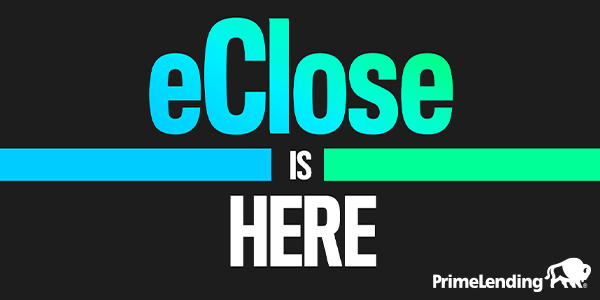 Our team had a need. We delivered a solution. That's how we operate at PrimeLending, doing everything in our power to design and employ assets that help our loan officers, borrowers and business partners experience a world-class mortgage process.
The latest addition to our technology suite is eClose, which is a mostly digital experience that significantly streamlines and simplifies the closing process for our loan officers, borrowers and business partners.
But eClose hasn't been the only feature we've rolled out this spring. First, we implemented Blue Sage, a best-in-class, cloud-based LOS that offers seamless origination, automated workflows and unmatched efficiency. Then we added Total Expert, a data-driven marketing platform that offers game-changing assets for our loan officers, while also giving our loan offers the ability to create, deploy and track marketing materials that turn prospects into life-long clients.
PrimeLending is the home of modern origination, and that means we're doing everything we can to meet the needs and demands of our loan officers and their customers and business partners.
If your company isn't investing in the tools you need to help you succeed, the support to help your business grow, or the care to ensure you're safe and secure when it matters most, it might be time to make a move to PrimeLending.
Get in touch with a recruiter to learn more about what PrimeLending can offer you and your business, and to take the next step in the process.