In Sync Operations and Sales Drive Success
The PrimeLending team is stacked with superstars across the board. Those top performers aren't just in the field, they're working behind the scenes to ensure the home loan process is smooth and homeownership dreams become a reality each and every day.
The HousingWire Insider (link opens in a new tab) award recognizes those unsung heroes of the mortgage industry, and three of PrimeLending's operations members were named to the 2018 list.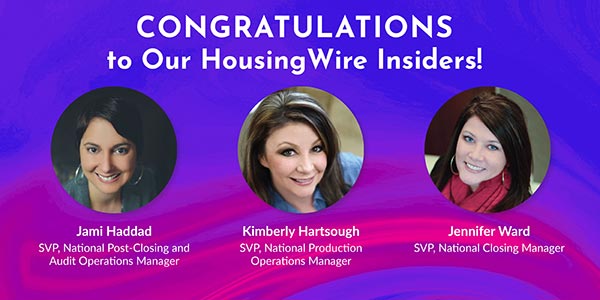 Jami Haddad
SVP, National Post-Closing and Audit Operations Manager
With a relentless attention to detail and tireless drive to do the right thing every time, Jami helps ensure our transactions are executed accurately and compliantly, ultimately protecting our bottom-line and strengthening our reputation.
---
Kimberly Hartsough
SVP, National Production Operations Manager
Kimberly sees every challenge as a unique opportunity to make things better and approaches her leadership role with humility and a hands-on, sleeves-up mentality that sets a high bar for the rest of PrimeLending to aspire to.
---
Jennifer Ward
SVP, National Closing Manager
Jennifer leaves no stone unturned when it comes to finding ways to close loans accurately and on-time, beginning with forging a close partnership with LOs in the field, earning their trust with consistent communication and results.
---
Our operations team is relentless in their efforts to close loans on-time and accurately, and it all starts by forging a partnership with loan officers. Jami, Kimberly and Jennifer all play an instrumental role in the fulfillment process as go-to members of the team, helping to strengthen our reputation and earn the trust of all parties.
PrimeLending is dedicated to helping our loan officers succeed, delivering timely results and going the extra mile execute every transaction with ease.