Now is the Time to Make Your Move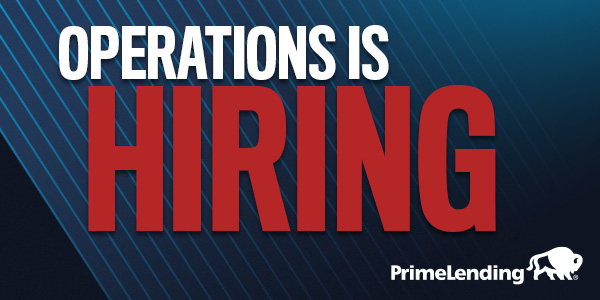 The mortgage industry is booming during these unprecedented times. If you're not getting the support, the tools and the appreciation you deserve to excel at your role, now is the perfect time to make your move to PrimeLending!
Taking care of our people is always a top priority. Our industry-best technology solutions combined with our award-winning culture make PrimeLending the top destination for mortgage operations professionals looking to take their career to a new level.
Plus, you can enjoy stability like never before. Eight years is the average tenure of our underwriters, closers and post-closing employees at PrimeLending. When you think about stability and where you want to take your career as an operations professional, PrimeLending is the powerhouse you're searching for.
If you're ready to enhance your career, be part of a winning team and make a real difference in the lives of our borrowers and teammates — all with the convenience of working from home, now is the time to make your transition.
For more details or to get started on your move, contact Brian Geller.