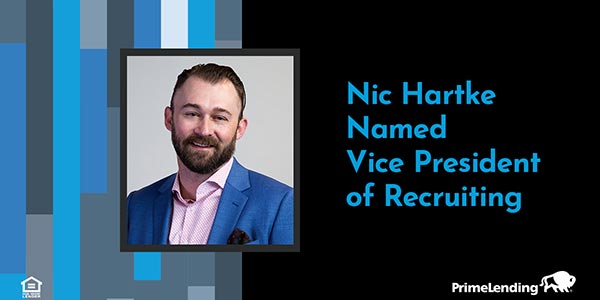 PrimeLending is excited to announce that Nic Hartke has been promoted to VP of Recruiting. Nic has been with the company since 2018 as a Regional Production Recruiter, covering the Mid-Atlantic and Northeast Regions. He's played a significant role in the growth and record-breaking success of those regions, helping Loan Officers make the transition to PrimeLending and thrive upon their arrival.
"It takes a special talent to connect with people, understand exactly what they're looking for in their career, and then accurately portray how PrimeLending can help them get there…all while making their transition seamless," said Tim Elkins, Chief Production Officer of PrimeLending. "Nic excels at all of this and more, which is why he's the perfect fit to lead our recruiting efforts."
As one of the pillars of the recruiting team, Nic was able to help turn prospects into true powerhouse performers at PrimeLending, guiding them through the process with ease. While delivering results is always the goal, Nic is also a forward-thinker who understands where PrimeLending is headed as an industry leader.
"It's such an honor to take on this role and help drive PrimeLending's recruiting efforts to the next level," Nic said. "Our recruiting team is so strong, I can't wait to see what we can help our new loan officers accomplish, and how we can help this amazing company grow even more."
Nic has more than 15 years of experience in the mortgage industry, starting out originating for Chase in 2003. In 2005, he transitioned into recruiting, working on the agency side before eventually moving into corporate recruiting with MetLife Home Loans in 2011. Prior to joining PrimeLending, he served as VP of Talent Acquisition at Stearns Lending. Nic has a Bachelor of Business Administration degree in marketing from The University of Cincinnati.