PrimeLending is known for making home loans simple. But we're also known for making a difference in our communities across the country. This year, we've been honored to work with the Make-A-Wish® Foundation to help give some special children their own, unique kind of "homes" – backyard getaways where they can enjoy being a kid and forget their worries.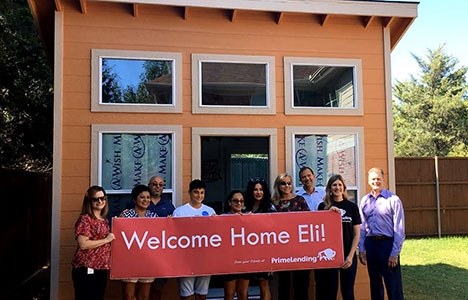 In The Colony, TX, a 14-year-old named Eli is in remission after battling a rare form of cancer. His one wish was to have a space of his own to hang out with friends, play video games and relax, so we teamed up with Make-A-Wish North Texas to help make it happen. Our employees were able to raise $10,000 to build Eli a custom-designed clubhouse. It came complete with furniture, air conditioning, a stocked mini-fridge, and some FC Barcelona décor (his favorite team -- he loves soccer!).
Alicia, a 3-year-old battling leukemia in Aloha, OR, also wished for a place of her own where she could play. Because of her illness, she was unable to visit community parks or playgrounds, where she could pick up other germs. Thanks to Make-A-Wish, our Pacific Northwest Region and a generous donation from our corporate office, Alicia now has a swing set at home that includes a fort and a slide.
Being able to help Eli and Alicia this year has been particularly rewarding endeavors for our employees. We're a company that works together to have a profound and positive impact on the lives of all we serve. Giving back to others starts with our set of core convictions -- principles that don't just exist on posters hanging on the walls, but are evident in our practices, relationships and quality of service. We're so much more than just a mortgage lender; we're a team of people who care.