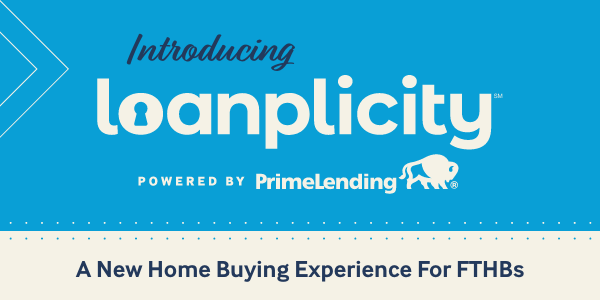 We're thrilled to announce Loanplicity® Powered by PrimeLending®, an important new component of our customer journey. An extension of the PrimeLending brand, Loanplicity is our dedicated marketing channel for reaching first-time home buyers (FTHBs) and generating more business opportunities for our loan officers. It's a one-of-a-kind online resource center that leverages our technology platforms to connect with more FTHBs earlier in the process – before they pick a realtor or find a home.
How does it work?
Loanplicity captures the attention of future customers by explaining the mortgage process in simple terms and inviting them to explore relevant topics in a self-paced, pressure-free environment. That way we are top-of-mind when they are ready to choose a lender.
We're focusing on FTHBs because they represent a huge opportunity — 33% of all home purchases in 2020*. And since most home buyers end up getting multiple mortgages in the course of their lifetime, as they get married, have children, relocate or go through other life experiences, each FTHB customer can turn into repeat borrowers.
Casting A Narrower Net
Because the definition of FTHBs is so broad, we wanted to narrow our definition to the largest, fastest growing segments — Millennials and Generation Zers. In fact, these under-40-year-olds comprise more than 60% of PrimeLending's purchase volume for 2021.
We set about finding out more about these home buyers, and what makes them tick. And after extensive research we discovered that younger FTHBs are hungry for information and appreciate the opportunity to learn and explore related topics at their own pace.
These buyers are:
Tech savvy, digital communicators and may be smartphone natives
Avid researchers — in fact 93% conduct Online Research Regarding their Home Search*
Are comfortable using technology to simplify complex tasks
Socially engaged, seek recommendations and embrace credible reviews
Looking for authentic brands that align with their values and provide a personal experience
Hello Loanplicity
With today's FTHBs in mind, our team began brainstorming how we could meet their needs and fill a service gap. The result is Loanplicity, which features a wide variety of content types, from interactive tools to helpful articles to more in-depth guides, home buyers can choose how they want to consume information.
This launch is just the beginning for Loanplicity, and the sky's the limit for where we can take it. We will be adding new content and tools every month, encouraging users to return again and again.
We hope you all will spend a few minutes exploring Loanplicity(Link opens in a new tab) and see why we believe it is the new experience FTHB are looking for.