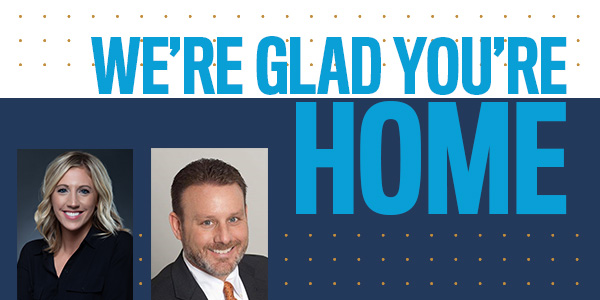 Is the grass always greener on the other side? For employees that have left the herd, the answer is simple and typically quickly evident… no! In fact, over 15 producers over the last year are considered "boomerangs," meaning they left on great terms and were eventually rehired. We recently sat down with Robert Wolfe and Carrie Morgan to learn more about their experiences and why they are grateful to be home.
---
Robert Wolfe
Production Manager
NMLS# 376414
Beaver Creek, OH
After leaving PrimeLending to take an entrepreneurial adventure as both a broker and business owner, Robert Wolfe returned and was thrilled to return to the stability and autonomy offered at PrimeLending.
How has PrimeLending's digital tech stack, including Blue Sage, Total Expert and Salesforce helped ensure a successful return?
Our current suite of technology has been a huge upgrade for business and its intuitive nature lets you feel self-sufficient quickly.
What did you miss most about working for a proven industry leader?
Because leadership proactively anticipates industry trends, we are positioned to bounce back quicker than competitors. Not only do they foresee industry changes, but they also do an excellent job educating and preparing employees. They take the time and effort to visit the field and build individual and authentic relationships.
Since returning, has it been difficult to reintegrate yourself culturally?
I was totally happy at PrimeLending prior to leaving and since I've returned it feels like I never left. I received the warmest welcome back and so many notes saying kudos on coming back to such a great company.
---
Carrie Morgan
Senior Loan Originator
NMLS# 343061
Rochester, NY
After a move to the south inspired a change in her professional home, Carrie Morgan recently returned to both New York state and PrimeLending. where she was able to start originating without missing a beat.
What did you miss most about PrimeLending's culture?
PrimeLending's culture is built upon a universal team mentality and that level of trust in your team lets you focus on originating. One Team, One Purpose is truly a core conviction that is lived and breathed both at the local and national level.
How has PrimeLending provided you the autonomy you need to grow your business, while also giving you the support along the way?
The ease and freedom LOs experience at PrimeLending make a huge difference in production. At PrimeLending, you have everything necessary to be successful. There is a constant effort to provide us with everything we need, especially at the annual Sales Rally event. The best part of that event is that we learn so much we can take home with us and implement into our current business strategy right away.
What advice would you give to someone considering leaving to work for another lender?
After coming back to PrimeLending, I realized how easy it is to take an amazing culture for granted and that a thriving culture hugely benefits business. I'm thrilled to be back home!
If you're ready to Discover Your Best® and take your career to the next level or make the move back to PrimeLending, visit joinprimelending.com to learn more.