Want to learn more about the driving force behind our continued success and growth at PrimeLending? Look no further than our people who are leading our way into the future, like Steve Thompson, President of PrimeLending.
How did you get your start in Mortgage?
ST: After originally pursuing my dream of being a stockbroker, I realized it wasn't a fulfilling career path for me. Following my mom's advice, I began a career in retail mortgage and never looked back. It's been 30 years in the mortgage industry and counting, with the past seven at PrimeLending. My only regret is I didn't get to PrimeLending sooner.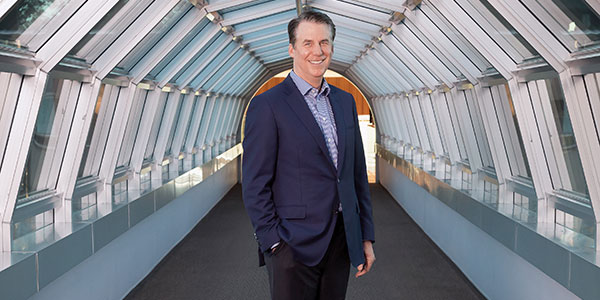 What mission and/or objectives do you strive to achieve in your role?
ST: As President of PrimeLending, I ensure our organization remains laser focused on achieving our strategic priorities, which are to grow the business, strengthen our competitiveness, ensure we deliver an excellent customer experience, nurture and promote our culture and Great Places to Work environment, and achieve financial expectations.
Do you see the role of the Loan Officer diminishing over the next 5 years?
ST:For the last few years, one of the most common buzzwords I've seen in business articles and leadership books is DISRUPTION. In our industry, there are competitors who would like to be defined as disruptive. Companies who are looking for ways to flip the script on the traditional mortgage process by making is completely self-service, virtually eliminating the role of the loan officer, or offering one-size-fit-all solutions that sound great, but ultimately fall short when you get into the details, conditions and restrictions.
I see three forces at work in the industry that are key reasons why despite efforts to disrupt the process, Loan Officers will remain integral to the home loan business.
Complexity: Mortgage is a complex industry. Between state and federal regulations and restrictions, and the volatility of interest rates and the economy, navigating these waters is more of an art than a science.
Human Emotions: The very scale of the transaction is unique. People will always have strong emotions – fear, anticipation, hope, doubt – attached to getting a home loan. Buying a home is still the single biggest transaction most people will ever make.
Overwhelming Choice: More than ever before, people are presented with a seemingly limitless range of choices…but very little clear and trusted direction. The result, consumers feel overwhelmed and confused when there is no simple way to decipher and evaluate their options.
As I look ahead, it's clear to me that experienced, service-oriented loan officers matter in this industry – that is not changing any time soon. It's a belief we've built our business around, and why we continue to place such a high priority on growing market share by attracting and retaining the very best talent in mortgage.
Can you recommend a book you recently read?
ST: I love to read, and I'm always picking up leadership books, memoirs and books about history. One of my favorites that fits all those categories is The Boys in the Boat by Daniel James Brown. The story really grabbed by attention because I rowed in college – many of the same waters talked about in the book. But what has really stuck with me over time is the power of a unified team. I can't think of a book where a true story captures the PrimeLending 'One Team, One Purpose' conviction like this one.
Do you have a favorite inspirational quotation about leadership?
ST: I am an avid tennis player and fan. Arthur Ashe is someone I always admired (it didn't hurt that he was a fellow UCLA man). I love this quote from him:
"Start where you are. Use what you have. Do what you can."
To me it speaks about taking action, being resourceful and dealing with constraints. In my experience observing great leaders, there is an art to being in the moment—honesty, fearlessness, humility and grit. I strive to live each day with this mindset and approach.
Can you share a habit or routine you rely on daily or weekly?
ST: I am rooted in my attention to detail. I see myself as a good finisher, getting the right people around the table, not shying away from questions and sticking with a project until the end. There are many people who are smarter and more creative with strong visionary abilities, but my ability to systematically and decisively solve a problem, launch a new initiative and assemble a powerful team is rooted in that attention to deal. I know how to organize, strategize and execute to get us over the finish line.
What advice would you give to someone just starting their career in this industry?
ST:Pursue what interests you. If you do, you'll be naturally curious and that will sustain the energy you need to grow and learn. Also, don't be afraid to take on or participate in messy tasks or problems that need fixing.
What is the most fulfilling or rewarding part of your job?
ST: I get to work with a great team of people and every day we work together to help families with one of the important things in their life: their home! Whether it's buying their first home, moving up to a larger home, refinancing to help with other goals or dreams, we're there to provide expert guidance, simplify the process, and make it a memorable experience.
We'll be sharing more insight and inspiration from our team in the coming weeks. Learn more and connect with us.