Five years ago, Danielle Dincher-Hall was working at a bank that cared more about its top producers than meeting their customers' needs. She knew that business model wasn't a recipe for success, but she wasn't sure what her next steps should be.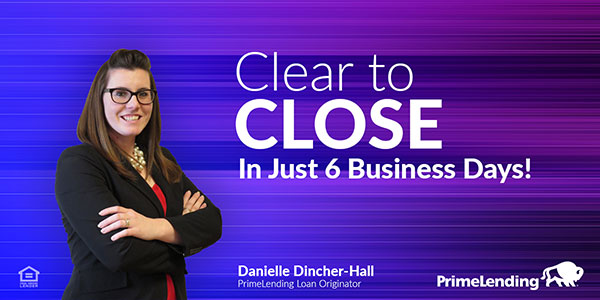 Enter Mike Philibin, Branch Manager at the PrimeLending Williamsport branch.
Mike approached Danielle and presented her with an opportunity to make a move to PrimeLending, a proven powerhouse in the mortgage industry. Danielle decided to take a leap of faith and join a company equipped with all of the tools a Loan Originator could want to provide real solutions for homebuyers.
"At PrimeLending, it is about the customer, not about top producers," Danielle said.
Since transitioning to PrimeLending, Danielle says the difference between now and then is like night and day, as she has essentially doubled her business in 2018, closing 115 units. "My average turn time from origination to closing day is 32 days. That is outstanding for this business. What I love about PrimeLending is that you always know where your file is, whether it's in set up, processing, underwriting or closing. As a loan officer, that is truly amazing."
The Philibin team dynamic at our Williamsport branch is fueled by motivation to get loans on the table and customers in their homes in a timely manner. Their drive helped a buyer and seller get "clear to close" in just six business days!
Clear-to-Close Timeline:
9/13 – Met with buyer
9/14 – Submitted to Set up
9/16 – Appraisal order accepted
9/16 – Out of Set up and assigned to underwriter
9/16 – Into UW Q
9/17 – Out of UW Q
9/20 – Appraisal received
9/20 – Back in UW Q
9/21 – Final clear to close
Resources for Field Team
From our corporate office to our field team, we offer full support for our loan officers. Our marketing platform has a plethora of collateral pieces to support our field team, like customizable flyers, email campaigns and more. Danielle's team readily uses the customizable flyers to hand out at open houses, giving potential clients her contact information on the spot.
At PrimeLending, we know how important it is to have access to resources and products that help you get customers from application to closing quickly! With more than 400 products and support from our marketing team, you'll have the tools to get clear-to-close. Ready to make the move? Visit joinprimelending.com to get started.