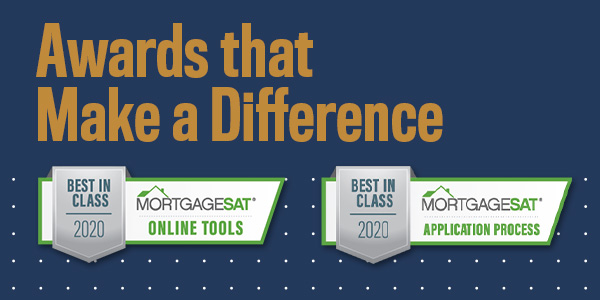 We're so thrilled to announce PrimeLending has once again been recognized by MortgageSAT® as a Best in Class Lender for 2020 in the categories of Best Online Tools and Best Application Process. These prestigious awards are only given to lenders who consistently received the highest ratings from borrowers they served in 2020 — in other words, they come from our customers!
While these awards are always an honor to receive, this 2020 recognition holds a bit more significance. Why? Because of the unforeseen situation everyone found themselves in most of last year. As the country pivoted as quickly as possible, we're so proud to offer our customers online tools and an application process that made their lives easier — not more stressful.
Our team has worked (and continues to work) relentlessly on digital solutions that streamlines every aspect of the home loan process. It all starts with our acclaimed mortgage experience, Loanplicity®, which combines personal service with digital speed, security and innovative convenience at every step.
Our goal is simple — provide the ultimate mortgage experience to customers and business partners alike every single day.
If your borrowers aren't enjoying an award-winning digital process, it's time to explore your options with a company who is invested in the customer experience from application through closing. Contact Nic Hartke to discover more about our digital tools or to learn about what opportunities are available with PrimeLending.