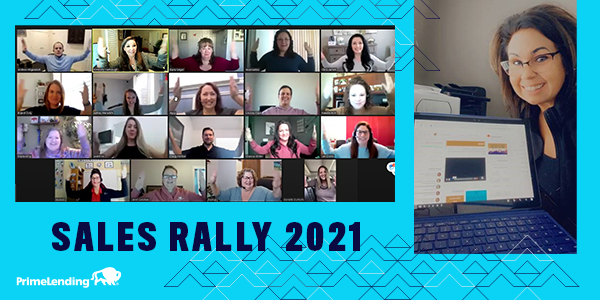 Instead of PrimeLending teammates congregating in person for our 2021 Sales Rally, we hosted our first-ever fully virtual event — while still enjoying the same dynamic and engaging content.
Sales Rally is our most highly anticipated event each year. Typically, thousands of PrimeLending employees get together in person to celebrate the previous year's achievements while also looking ahead on how we can continue to meet our full potential and maintain our industry-best standards.
Well, 2021 had different plans — but we were determined to not let the pandemic keep us from creating such a beneficial event for our loan officers, branches and operations. With the health and safety of our team being of the utmost importance, we pivoted from our typical Sales Rally preparations and activities and planned our first-ever virtual event.
Reserved hotel rooms and meeting spaces were traded for a studio space to record multiple video sessions. In-person welcome boxes were shipped to homes across the country. Live breakout sessions were swapped for a carefully curated library of on-demand videos.
There were also informative corporate updates by executive leaders, keynote speakers, live Q&As, an Exhibitor Showcase and so many more valuable content pieces.
R.I.S.E Together, our 2021 Sales Rally theme, perfectly encapsulated the resilience and grit our entire team demonstrated in 2020. It also promised the dawn of a new era as our Modern Originator tools, such as Blue Sage and Total Expert, continue to ramp up to their full potential and catapult us ahead in the market.
Building on the momentum created last year, the 2021 Sales Rally event marked the start of what is sure to be another phenomenal year as PrimeLending continues to place the highest priorities on executing with operational excellence and delivering a best-in-class borrower experience.
Want to learn more about Sales Rally or what PrimeLending has to offer you and your business? Visit www.joinprimelending.com.