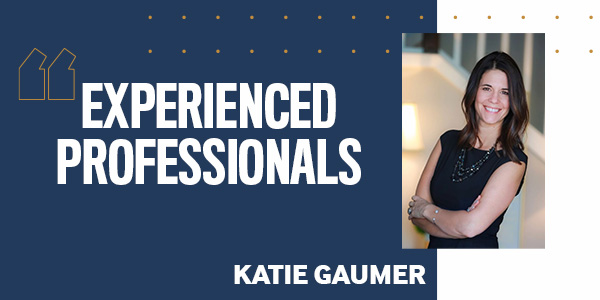 We recently asked Katie Gaumer to share her insights on what sets her apart from competitors and how PrimeLending contributes to her success in our Q&A interview series with top PrimeLending loan officers.
What advice would you give to someone just starting their career in this industry?
Strive to provide the best customer service possible. You always want the customer to know they matter and that you're there for them even after closing. This isn't just a transaction, but a relationship. come back and realize they matter even after closing. Keep an open line of communication and follow up. Make mortgage approachable and be your borrower's mortgage guru.
What about PrimeLending's culture really stands out to you?
From the beginning, I knew PrimeLending's promise to deliver service beyond expectations was unrivaled in the industry. It's clear that we are a group of driven people united under one goal and vision — helping the borrower. Every step of the way, I am impressed by our collective efforts especially when it comes to getting a loan across the finish line — this is the time to shine at the end of a deal. PrimeLending handles themselves differently and works under the highest caliber of work — we even have clients funded before waking up!
What has been one of the biggest contributors to your success?
In May of 2018, I asked one of the branch's junior processors if she had any interest in pivoting into a new role as my assistant. Luckily, she was eager to take on the challenge and she has helped exponentially with my continued growth! In 2018 I did over $26 million, in 2019 I was able to produce over $38 million, and this year I should exceed $50 million! I couldn't do it without her!
What is the most fulfilling or rewarding part of your job?
More experienced professionals are always willing to share their wisdom. I learn something new every day from my peers and am always getting advice on how to be the best. The mentoring aspect of leadership is amazing. It's rare to find a company that has such open communication across the board.
What personality traits fuel your success?
To be successful in this industry, being a driven competitor is a must. I know my relationships are built on the highest level of communication and nothing says success more to me than seeing referrals.
Do you have what you need to achieve the professional success you deserve? If not, visit www.joinprimelending.com to explore potential opportunities to grow and thrive.