What does being a team-oriented sales organization mean? At PrimeLending, it means we're all-in to help every individual achieve success and celebrate wins. That's why so many proven professionals from other mortgage lenders find their greatest success at PrimeLending.
We're pleased to share three recent success stories of members of our Southern Coastal Region who were recently recognized and promoted based on their outstanding performances and high level of excellence: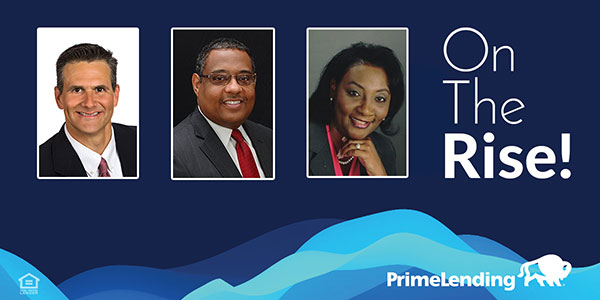 Paul Chiasson
(NMLS: 112522)
Branch Manager
Slidell, LA
Paul, a mortgage veteran with more than 20 years of industry experience, was promoted to Branch Manager in the Greater New Orleans/Southern Mississippi markets. His new position was earned after joining PrimeLending just two years ago.
---
Steve Blake
(NMLS: 450899)
Production Manager
Olive Branch, MS
Steve, a proven industry expert who joined PrimeLending in 2015, has been promoted to Production Manager for our Memphis and Northern Mississippi markets. In 2018, Ask a Lender (link opens in a new tab) ranked Steve Blake #1 Best Mortgage Lender in Mississippi.
---
Sharon Williams
(NMLS: 118322)
Production Manager
Baton Rouge, LA
Based in Baton Rouge, LA., Sharon was promoted from Senior Loan Officer to Production Manager on September 1, 2018. She is an industry veteran with more than 25 years of mortgage experience. Since joining PrimeLending in 2015, Sharon has been an integral part of building the PrimeLending brand in Baton Rouge and the surrounding markets.
---
We want to congratulate Paul, Steve and Sharon for their hard work and dedication. We are so proud to have these mortgage superstars on our team and leading our growth in the Southern Coastal Region.
If you're ready to advance your career, regardless of season or market condition, PrimeLending is the place for you.